The biggest solar power station in South America is being built on a plateau in northern Argentina, powered by Chinese money and technology.
Local officials said they had sought help at home, in the United States, and in Europe, but had not been successful. They say potential lenders and partners have been deterred by the size of the project and the financial difficulties of the province of huhui(one of Argentina's poorest province.)
The export-import bank of China has a different view, the report said. The agency provided 85 percent of the funding for the nearly $400 million cost of the project. The loan is for 15 years and carries an annual interest rate of 3%, a person familiar with the matter said. In addition, the province buys nearly 80 percent of its raw materials from Chinese suppliers.
These include Huawei, the report said. In the province of huhu, Huawei is offering inverters that convert the electricity generated by solar panels into usable electricity and act as an important gateway to the grid.
The project is seen as evidence of China's growing influence as a funder of big projects in emerging markets, the report said. It also helps China solidify its position as the world leader in clean energy technology.
"It's a way of expanding China's growing global influence and dominant economic power, and it's a way of gradually reorienting the world from the U.S. and Europe-centric perspective of the last 50 years," said Tim Buckley, director of the Institute for energy economics and financial analysis.
The trend has rattled trump administration officials, Reuters said. But in the huhui province, home to about 750,000 people and in dire economic conditions, officials are not in such a mood. Argentina has set ambitious renewable energy targets. They say it is China, not the United States, that is stepping up its financial and technological support.
"China...Countries that have been more generous in opening their doors to fund this program.
The governor of the huhui province, Gerardo Morales, told Reuters he is optimistic the relationship between the two provinces will strengthen ties.
"We have received many Chinese companies," Morales said.
The solar project in kokari, in the province of huhui, is one of the world's highest solar power stations and will be built at an altitude of more than 4,000 meters.
The facility is expected to start supplying electricity to the grid in August, with a capacity of 300 megawatts, enough to power 120,000 homes. According to officials in the huhui province, 260,000 households would benefit from a capacity increase to 500 megawatts.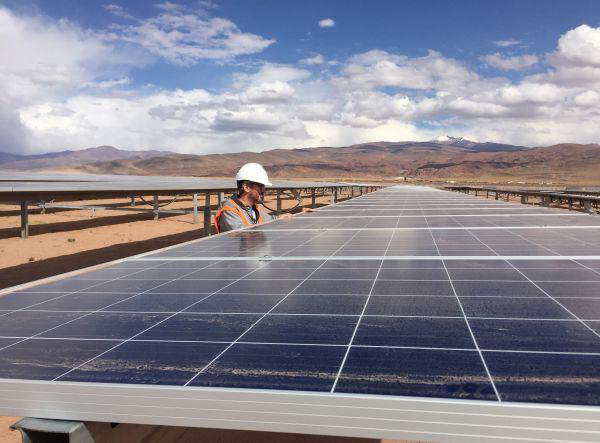 Guillermo hillart, the project's technical director, looks at the project's solar panels