Plant by plant decommissioning strategy of coal power in China,soalr power will be the replacer
by:TUNTO Green Power
6345 browse
Time required for reading:4min
Plant by plant decommissioning strategy of coal power in China

As the world's largest coal consumer, China will need to rapidly phase out coal-fired power plants to achieve deep emissions cuts in order to achieve carbon neutrality by 2060 and the global 1.5°C climate target.In 2020, China's total installed coal-fired power capacity will reach 1.08 billion kilowatts, exceeding all other countries combined. Moreover, most coal-fired power plants have come on stream in the past 15 years, leaving them with a longer life than facilities in Europe and the United States, meaning that rapid decommissioning of China's coal-fired power plants risks stranding assets and that further expansion of coal-fired power plants could exacerbate the economic impact, primarily of coal power.The key challenge for China's economic and clean energy transition at this stage is whether it can achieve deep reductions in coal power generation in the coming decades, achieve net-zero emissions in the power system, and complete the coal decommissioning path that matches the 1.5°C global warming target.
A study based on the Global Comprehensive Assessment Model (GCAM-China, Global Change Analysis Model) (GCAM),The carbon dioxide reduction path for China to achieve global warming targets of 1.5°C and 2°C, emission trends in the power sector, and generation scenarios for coal-fired units are obtained.To achieve an exit path that matches the 2 °C targets, China would need to accelerate the phase-out of conventional coal plants by 2050 to 2055, which would need to be brought forward to 2040-2045 under the 1.5°C target, with continued construction of new coal plants during this period further shortening the service life of all existing power plants.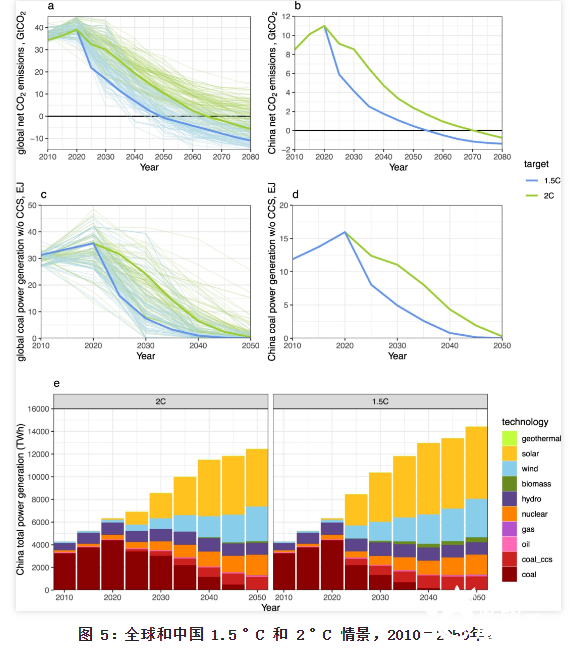 A. Global CO 2 net emission pathway,
B. China's CO 2 net emission pathway,
C. Global conventional coal power generation routes,
D. China's conventional coal power generation channels,
E. China's electricity generation by technology
The thinner lines in the figure represent the scenario for the IAMC 1.5°C scenario data.
The light blue line indicates that schemes are classified as "Less than 1.5°C", "1.5°C Low Overshoot" and "1.5°C High Overshoot".
The light green line represents the schemes in the database classified as "Lower 2°C" and "Higher 2°C".
As shown in Figure E, China's power generation by technology shows, regardless of the strategy of phasing out coal power, PV will account for an increasing share of the power supply over the next 40 years until it becomes the largest component.It also means that photovoltaic will bear the burden of power generation.
Submit successfully
We will review as soon as possible